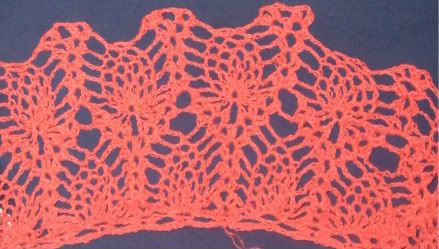 So I haven't gotten too far, what's it to ya?
Ahem, sorry. I haven't worked with pineapples much and when I did it was long ago. The pattern started out a little on the rocky side because of it, but the pattern is really clear and well written so I muddled my way through and behold! the pattern got easier and even *gasp* memorized.
The pattern ranges from petite to plus size which I loved, of course. It's made in a thread, but it could be made with something slightly thicker if so desired. Ankle length doesn't appeal to me much, but since it's worked from the hem up, it can be shortened to your required length simply by starting the decreases sooner than later.
I think this is gonna be a bunch of fun now that I'm past the hard part. Wish me luck and check back for updates soon!