Didn't go as well as I had hoped. It was great from the toe all the way up to the ankle, but then I had to alter the pattern a little to make the ankle bigger to fit my foot and then the afterthought hell didn't work up right. I will take the heel out and make it a more gradual decrease in the hope that it will not pull the back of the cuff down like it does right now. The toe was worked in the round and that led to it being twisted just a little and I hated it. Next time I'm working in rows, I can handle the joining, but not the twist.
Ignore my D-doggy, he is just soaking up the warm weather. And ignore the color as well, the wool is a bright red, not pink or orange.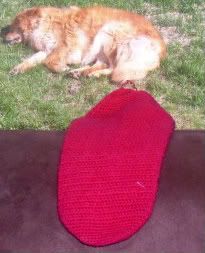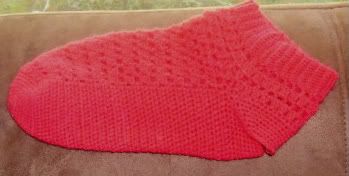 After those pics, here is one of my latest project. We went to Juana's (our real estate broker) garage sale on Sunday and got some baby boy clothes for the two nephews we found out we are having. I love crochet so it's not that hard to believe I started talking about yarn and thrift store reclaiming. She dug a sweater out of her boxes of clothing and asked if I could do anything with it. It was felted, for sure. It used to be a woman's medium and the poor little thing would have fit a size 5T girl. However, it was in good condition so I was indeed able to unravel it. I got two 5 oz. and two 4 oz balls of merino from it. I used some of that to make Juana a scarf. I know, it's the first hot weekend and I make a wool scarf for a pregnant woman, but she can use it later in the year.

I also made a
Swiffer Sweeper re-usable pad
from kitchen cotton and a thick coffee cup sleeve in a pretty blue color for an RAK I am part of on
Ravelry.

Handmade RAKs.
My friend Dee is running it and it was so fun to make something for someone! I do love giving gifts. Unfortunately, I forgot to snap pics before they were sealed up and mailed off. I have a couple of Swiffer here so I will make myself a pad or two and another coffee sleeve. Only for the pictures, of course. I'm obligated now.