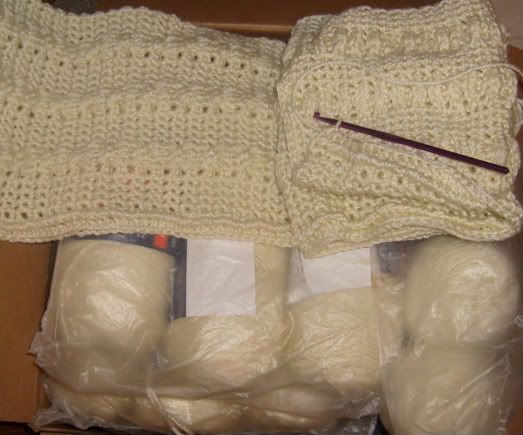 A few days ago I stumbled across an ad in Craigslist Bend. 30 skeins of yarn in Aran for $1 each of $25 for all. EEEEEE! Acrylic is great for washing and the colors is exactly what I was looking for to make a couple of throws or 'ghans for my Nanny. Her old ones are falling apart, stiff and scratchy, and bad colors. I bought the yarn for less than a third of what I would have paid in a store or online. I admit, I was curious why someone would charge so little. Two reasons came to mind. Either they had no idea what it was worth, or there was something wrong with it.
It turned out to be in the original bulk-purchase plastics bags and in good condition. The seller knew what it was worth. He explanation made so much sense. She had entered a contest hoping for the cash prize and won 60 skeins of the same color. She used 30 of them before, she cheerfully told me, she simply couldn't look at it any more. She was moving, too, and wanted it OUT.
I have the first of 5 panels finished for one of the afghans. I am using the pattern
Crochet Aran Afghan from Jo-Ann's
. It's a PDF. It's a little more time consuming than the other pattern I plan to use but it's pretty and simple. The other i liked for her was Berroco free afghan pattern, Andalusia. Squares are always fast. I think she'll love it.