Now that I have it back, it's hard to remember that it's no longer missing and I can actually take pictures of my crochet projects. hopefully, someone will take pictures I can use.
I was hosting a Fall Swap and today the boxes got sent out. You heard me, FALL swap and JUST NOW got sent out. In January. There were lots of reasons, mostly due to delays from every direction and the fact that I was a bit cocky about hosting this swap... completely disregarding the fact that I've never done it before. You know what, being a participant and hosting the dang thing are TOTALLY different.
In any case, the boxes got sent out today and I realized about two hours later that I never took pictures of my contribution to the Swap. Dagnabbit.
Have you ever seen amigurumi patterns by Ana Paula Rimoli?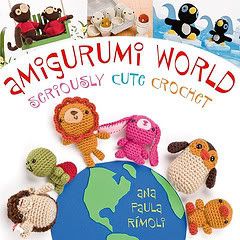 Now you have!
I have that book, Seriously Cute Crochet. Love her stuff. She has a
free cupcake amigurumi pattern
on her Etsy store and I made those as well as my own pattern for a mug of coffee/cocoa with a smiley face. Now that I am looking at her Etsy store, I see where I got my inspiration for the mug, it looks a lot like
this one
. Mine is bigger, about 3 inches tall, has a question mark shaped handle higher up and no felt cheeks or plastic eyes. I used black yarn to make a little V-shaped smile and up-side-down V eyes. The cupcakes were altered a little as well since I was making them for people with kids. Instead of beads, I made a solid colored icing top and used a glittery multi-colored yarn to make sprinkles. They turned out great. Have I mentioned I love her patterns?
My sons all do, as well. Each of the older two asked for cupcakes of their own in wild colors and the youngest tried to snag one and run off to slobber all over it. Even my husband commented "nice cupcakes". I'm pretty sure he meant the toys.
I'll make some more and take pictures this time.